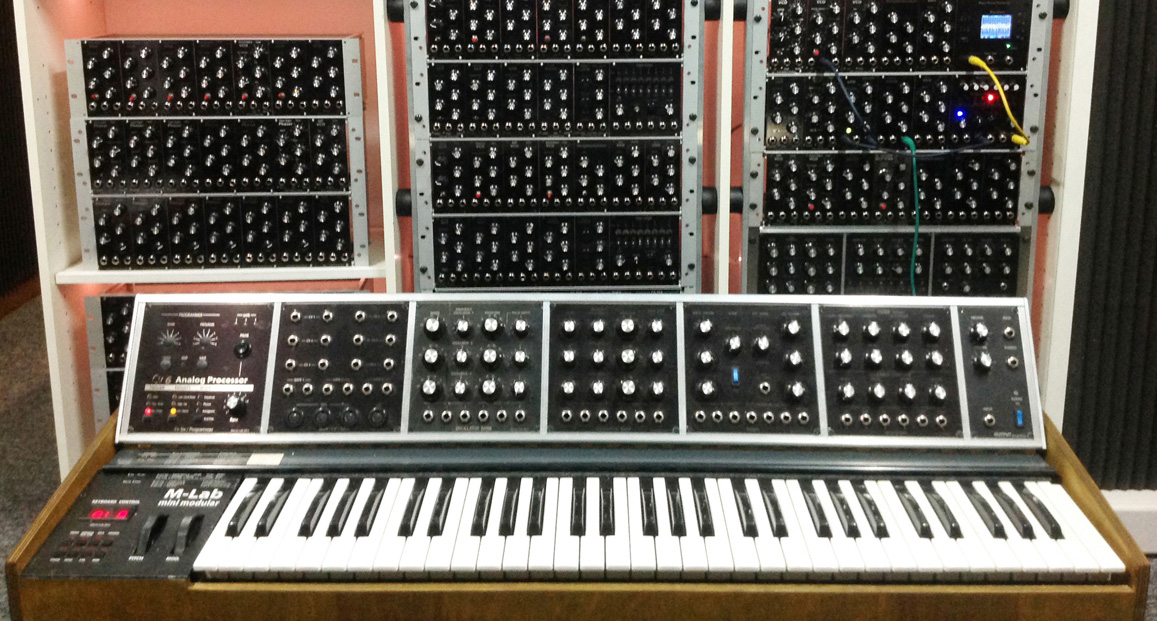 The Model-D monophonic analog modular keyboard synthesizer from K R A F T W E R K engineering is a high-quality, individually crafted item that features an impressive range of components and capabilities.
The oscillator bank includes 3 Model-D, UA726 voltage-controlled oscillators (VCOs), which offer rich, warm tones and are known for their stability and reliability. The slave oscillator bank includes 3 hard-synced slave VCOs, similar to those found in the Moog Prodigy.
The mixer allows for precise control over the volume of each VCO, as well as an external input with its own volume control. The mixer also features a white/pink noise switch and volume control.
The modifiers section includes a Model-D 24dB filter, which is a classic filter known for its warmth and versatility. The discrete analog VCA allows for dynamic control over the volume of the sound, while the 2 Moog 911-style envelopes (ADSR-L extended) offer advanced control over the sound's shape and character.
The output section includes main and headphone outputs, as well as a CV6 analog processor, which features MIDI to CV/Gate, a 127-step sequencer, and an arpeggiator. The CV6 also offers various trigger and priority settings for advanced control.
The keyboard features a FATAR 61 keybed, which is known for its high quality and responsiveness. The synthesizer also offers 6 CV outputs, 3 gate outputs, MIDI in/out/thru, and a DIN-Sync output for maximum flexibility and control. Overall, the Model-D is a top-of-the-line analog synthesizer that offers advanced features and high-quality sound.
3 x hard synced Slave VCOs (moog prodigy like)
6 VCO Volume Controls

1 Noise White/Pink umschaltbar + Volume Regler
External Input mit Volume Regler.
Model-D 24dB Filter
Discret analog VCA
2 moog 911 style Envelopes (ADSR-L extended)
MIDI to CV/GATE, 127-Step Sequenzer, Arpeggiator ...
Priority (Lowest, Highest, Last)
Trigger (Single, Multi)
6 CV Outputs
3 GATE Outputs
MIDI In/Out/Thru
DIN-Sync Output
Keyboard
---
Dies ist ein vorverdrahtetes modulares System, das sofort einsatzbereit ist, ohne dass umfangreiche Patches oder Verkabelungen erforderlich sind. Die Modularität des Systems bleibt jedoch in vollem Umfang erhalten.
Das Einstecken eines Steckers in eine Buchse unterbricht das vorverdrahtete Routing, sodass Sie das System nach Belieben patchen können. Dies gibt Ihnen die Freiheit, komplexe, benutzerdefinierte Klanglandschaften zu erstellen, die einzigartig auf Ihre Bedürfnisse und Vorlieben zugeschnitten sind.
Die Verwendung von 6,3 mm TRS-Schaltbuchsen gewährleistet eine professionelle Verbindung, die sowohl zuverlässig als auch einfach zu bedienen ist. Das bedeutet, dass Sie das Model-D in jeder Umgebung sicher verwenden können, egal ob Sie live auf der Bühne auftreten oder im Studio aufnehmen .
---
This is a pre-wired modular system that's ready to go right out of the box without the need for extensive patching or wiring. However, the modularity of the system is fully retained.
Inserting a plug into a jack breaks the pre-wired routing, allowing you to patch the system at will. This gives you the freedom to create complex, custom soundscapes that are uniquely tailored to your needs and preferences.
The use of 1/4" TRS switching jacks ensures a professional connection that is both reliable and easy to use. That means you can safely use the Model-D in any environment, whether you're performing live on stage or recording in the studio.