V/Oct  vs. Hz/V
Die Frequenz einer Oszillatorschaltung variiert linear mit der Eingangsspannung (Hz/V).
Aus diesem Grund muss eine (V/Okt) Steuerspannung mittels eines Anti log amp linearisiert werden.
The frequency of an oscillator circuit varies linearly with the input voltage (Hz/V).
Because of this, a (V/Oct) control voltage must be linearised by using an anti log amp.
exponential function to base 10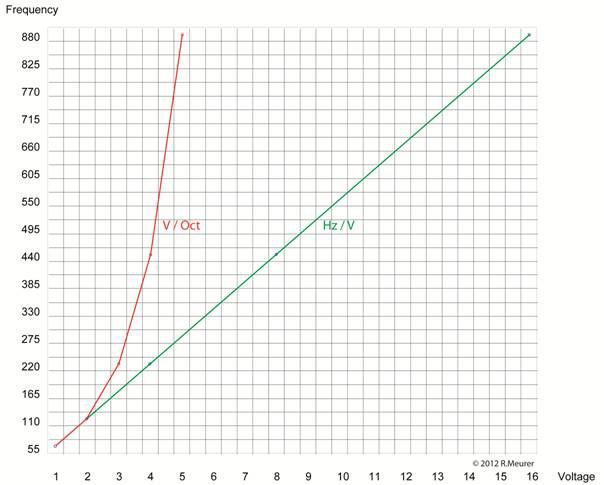 Hz/Volt Freq/Cv lin.
55Hz = 1V
110Hz = 2V
220Hz = 4V
440Hz = 8V
880Hz = 16V
V/Oct Freq/Cv log.
55Hz = 1V
110Hz = 2V
220Hz = 3V
440Hz = 4V
880Hz = 5V
R.Meurer 1988